General information on cookies
Cookies are small text files sent to the web browser on your computer, smartphone or other mobile device whenever you visit lindex.com.
In this policy, we look at:
What categories of cookies and tracking techniques we use on our website
What purposes we use cookies and tracking for
How you can change your settings regarding storing cookies and tracking
Categories of cookies and tracking techniques
We use four different categories. Even though we name our cookies and track techniques, the word "cookies" also includes our use of tracking.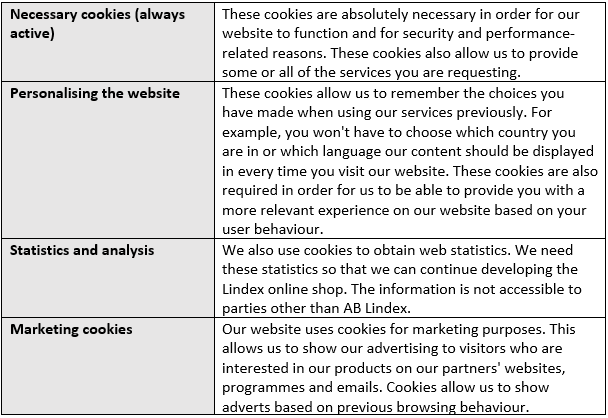 How to manage the use of cookies
When you visit lindex.com for the first time, you get to choose which cookies we may use via our consent manager. If you choose to allow all types of cookies, you consent to us processing cookies as described in this cookie policy. If you only wish to consent to certain cookies, you can do this by clicking 'Show details'. You can also change your settings at a later time or choose to withdraw your consent.
Your web browser or devices allow you to change the settings for how and where cookies are used. Go to your web browser or device settings to learn how to adjust your cookie settings. For example, you can choose to block all cookies, only accept first party cookies or delete cookies when you close your web browser. Remember that necessary cookies are required if you wish to continue using our website and services. Blocking cookies may also result in our services not working as they should.
In the privacy settings for the services you use (e.g. Facebook and Google), you can often adjust the settings for how these services collect data about you, based on your use. Your choices and settings may influence which target group or groups you belong to. This means you can influence your own online advertising landscape. Remember that you can always log out from services you are using to minimise the collection of your data.
For more detailed information on how to manage cookies and cookie settings in your web browser, visit http://www.allaboutcookies.org/manage-cookies/
You can also opt out of interest-based advertising by visiting the following websites:
http://www.youronlinechoices.com/
http://www.networkadvertising.org/
We may share data from which technical identifiers have derived with trusted partners in order to give you a seamless user experience from different devices and environments.

More information about the different categories of cookies
Necessary cookies (always active)
Necessary cookies allow you to use the website by activating basic functions such as site navigation and access to secure areas on the website.
These cookies are always active and do not require your consent. However, we wish to make you aware that we do not automatically place all these cookies on the device you are using. Instead, the way these are set depends on how you interact with our services.
Necessary cookies are used for the following purposes which you can find in the Lindex Privacy Policy.
In order to handle orders/purchases
In order to manage your user account
To be able to provide services on digital channels
In order to prevent abuse of a service or to investigate and prevent crimes against the company
To be able to provide benefits and offers to you as a member of More at Lindex
In the event that the use of cookies and tracking techniques also involves processing personal data, the legal basis indicated under the relevant purpose in the Privacy Policy applies.
See which cookies and tracking techniques that are included in this category in the table below.
Personalisation
Personalisation cookies allow our website to remember information which modifies how the website functions or is displayed. For example, this might be a preferred language or the region you are in. These cookies are also used to offer you a high-quality customer experience when you visit us via our digital channels. We therefore use services on our digital channels which are intended to make them easier to use and more personal. To achieve this, we use services such as product recommendations, personal search results based on your use, insert other examples of services that are personalised for the user.
Cookies in this category are used for the purpose of "Being able to offer a personal experience on our digital channels" and "To be able to provide a personalised experience of our services" which you will find in the Privacy Policy. In the event that the use of cookies and tracking techniques also involves processing personal data, the legal basis indicated under the relevant purposes applies.
See which legal basis is applied for this processing under the purpose 'To be able to offer a personal experience on our digital channels' in our Privacy Policy. In the event that the use of cookies and tracking techniques also includes processing personal data, the legal basis indicated under the relevant purposes applies.
See which cookies and tracking techniques that are included in this category in the table below.
Statistics
Statistical cookies help a website owner understand how users are interacting with websites by collecting and reporting information.
See which legal basis is applied for this processing under the purpose 'To be able to evaluate, develop and improve our services, products and systems' in our Privacy Policy. In the event that the use of cookies and tracking techniques also involves processing personal data, the legal basis indicated under the relevant purposes applies.
See which cookies and tracking techniques that are included in this category in the table below.
Marketing
Marketing cookies are used to track visitors on websites. The intention is to display adverts that are relevant and engaging for individual users, and therefore more valuable for publishers and third-party advertisers.
See which legal basis is applied for this processing under the purpose 'To be able to market products and services at Lindex and on third-party channels' in our Privacy Policy. In the event that the use of cookies and tracking techniques also involves processing personal data, the legal basis indicated under the relevant purposes applies.
See which cookies and tracking techniques that are included in this category in the table below.